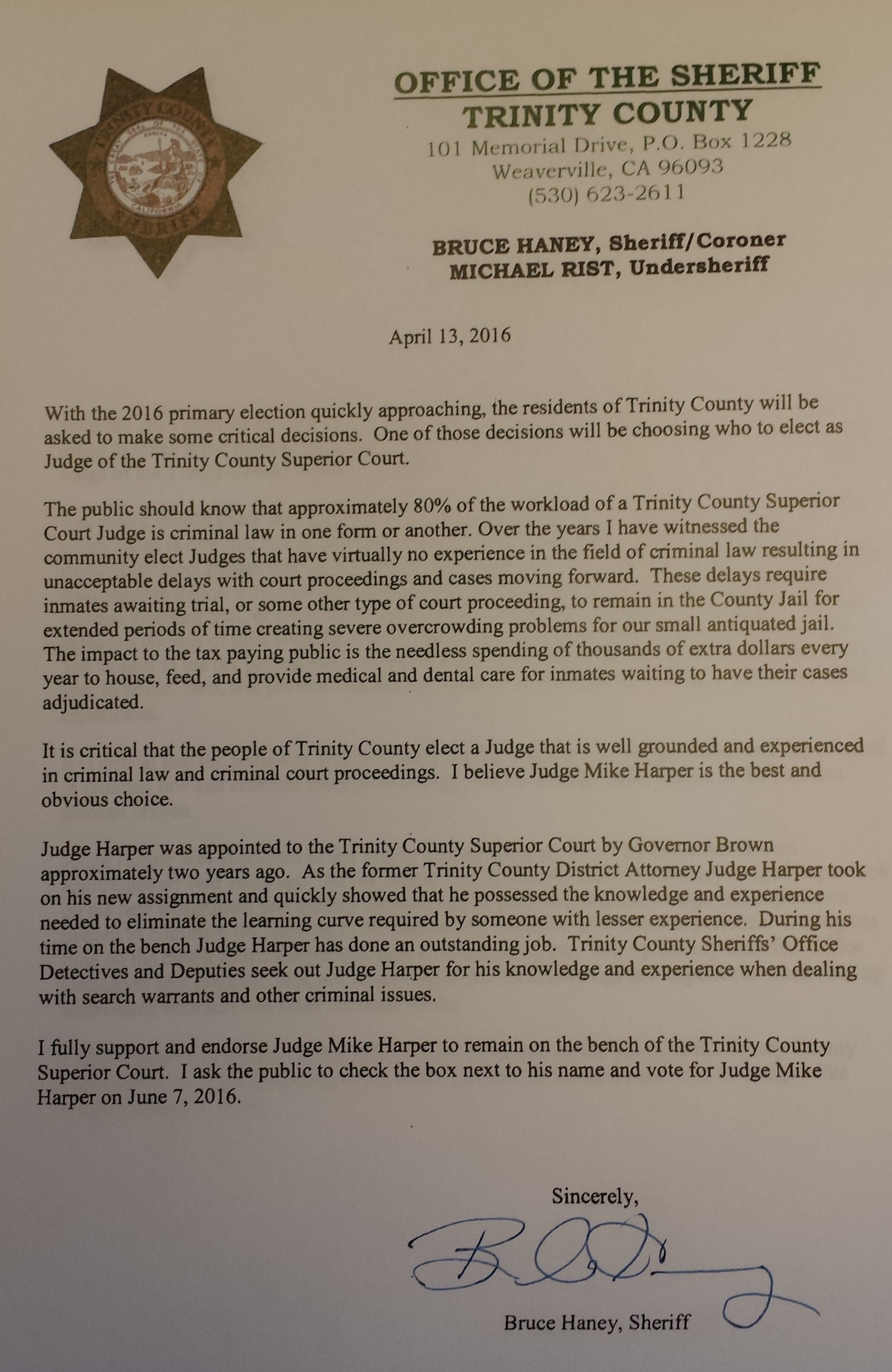 ---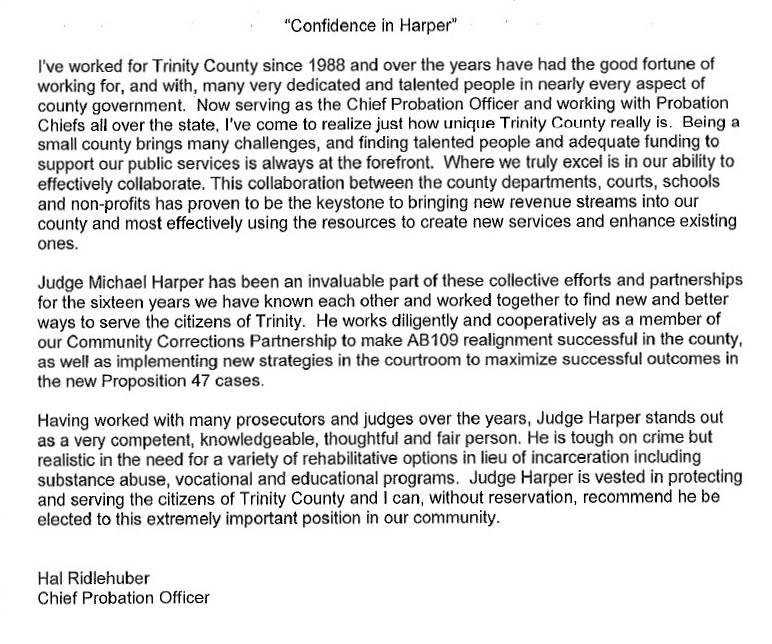 ---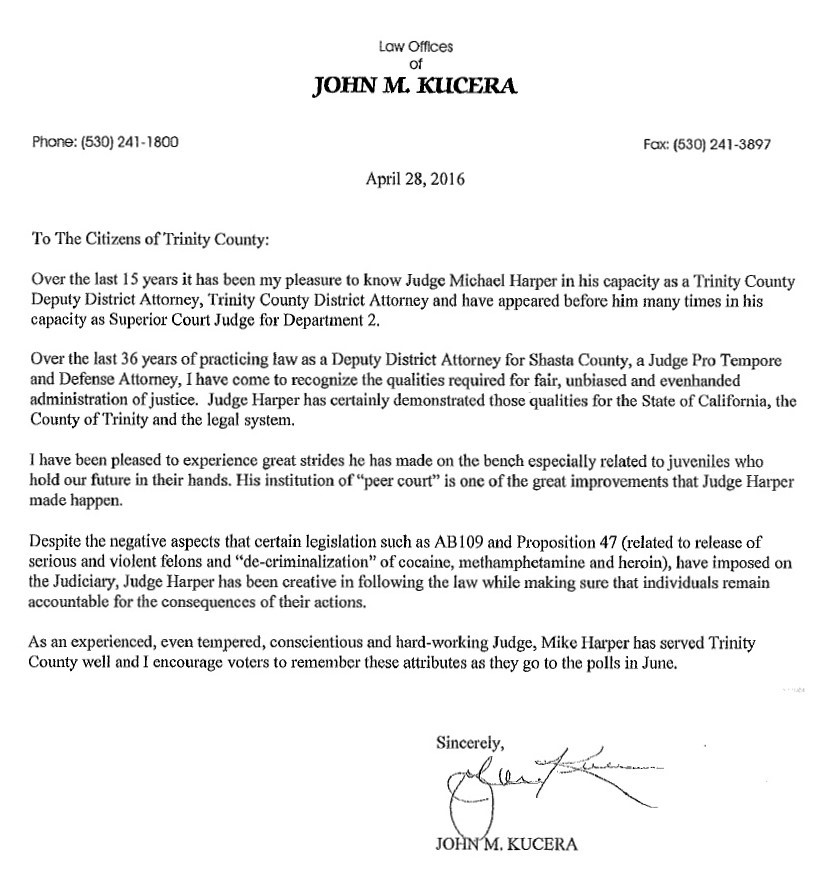 ---
James B. French - weaverville [and see the video, Jim's introduction at the Meet&Greet]

In my humble opinion, if we lived in a perfect world, an appointed Superior Court judge, selected from a list of many applicants, who was vetted by the state Judicial Committee after months of scrutiny, and appointed by the governor, should not need to be approved by "popular" vote, but that is the system we live under and your judge, Mike Harper, finds himself up for his first election after an appointment to the position by the governor.

As you may know, Judge Harper served two terms as your elected district attorney before being appointed one of your Superior Court judges. Judge Harper is finishing his second year as judge, serving with distinction as many within the system attest to.

His many years of criminal, and civil law experience (very important) have made him an ideal candidate to continue in his position as Superior Court judge. He is well respected by his colleagues in the Trinity County justice system, as well as the larger community he serves. He epitomizes the good family man serving his community beyond the bench.

I humbly ask for you to cast your vote for him in the coming election to keep our courts sound.
---
Matt Hudson - weaverville

Mike Harper is an excellent superior court judge. It is in the community's best interest to keep him in office.

His education, experience, and temperament all make him the right person at the right time for this important job. He has more than twenty years of courtroom experience, including more than 75 jury trials and thousands of court appearances. He has been a fair, impartial, and effective judge for two years.

Ninety percent of cases in our courts involve criminal prosecutions. This is true for both our judges. Mike's encyclopedic knowledge of criminal law and procedure, plus his experience, allow him to be efficient and correct.

Mike's opponent has literally no criminal law training, little courtroom experience, and no known jury trial experience. His campaign literature suggests problems that he essentially makes up; how would he know, he is almost never in court. Even if those problems existed, they would be the responsibility of the presiding judge, Judge Johnson, for whom he served as campaign chair four years ago. Has he brought his claims to her attention in the last four years? Apparently not. They are little but a politician's attempt to create issues.

Mike is a decent, compassionate person. He is a loving husband and father. He has dramatically improved the reputation and effectiveness of our Trinity County courts. Help keep a very good thing going. Vote for Mike Harper for Superior Court Judge on June 7.
---
Patty Ryberg Hymas - weaverville

In June 2014, Gov. Brown appointed Michael Harper as Superior Court judge based on his strong qualifications. When you research what a candidate endures, you learn that a "governor's appointment" is not to be taken lightly.

From 2001 until I retired in 2008, I worked closely with Mike in the Trinity County DA's Office. Professionally, Mike:
Has extensive legal knowledge, both with criminal and civil law;
Has extensive courtroom experience, both as Judge and as DA;
Has experience with running an office, both as manager and financially; and
Is ethical, hardworking and treats people fairly and with respect.
Personally, Mike is:
Honest;
Hardworking;
Polite; and
Trustworthy.
In 2001, Mike and his wife, Joanne, chose to come to Weaverville to raise their family here. In the 15 years that the Harpers have been in Trinity County, they pride themselves as being a part this community and county.
I've known Mike Harper's opponent, Jim, for over 50 years (being raised in the same neighborhood, both graduating from WES and THS and knowing each other through our legal professions). When Jim quoted in the Trinity Journal, saying "This race is about qualifications for judge."
(TJ 4/20/16 Gittelsohn: "Two seek election for Superior Court Judge" 4th paragraph)
. Jim was absolutely right -- the qualified man is Mike Harper.
Strong qualifications are what helped Mike to be:
Hired as Trinity County Deputy DA in 2001;
Elected as Trinity County DA in 2006;
Re-elected as Trinity County DA in 2010; and
Appointed Trinity County Superior Judge by Governor Brown in 2014.
I'm voting for Judge Harper.
---
Duane Heryford - weaverville

I will vote for Judge Mike Harper in June. I encourage all my friends and neighbors to do the same. Mike is by far the better candidate. When Judge Woodward retired, the Governor's Office for Judicial Appointments recognized Mike's superior qualifications, and his opponent's lack of them, when it appointed Mike Superior Court judge in our county.

Mike applied for the position and went through a detailed examination of his personal and professional life. His opponent also applied (as did at least eight others) and presumably went through the same kind of examination. Then Mike was interviewed twice and appointed. His opponent was not asked to come in for an interview.

In Trinity County, a Superior Court judge's job is 90 percent about criminal law. Mike has more than 20 years' experience in criminal matters. He was our district attorney for eight of those years and our judge for the past two. He has conducted or directed more than 75 jury trials. His opponent cannot even begin to compare his experience with Mike's.

If you had to have surgery and could pick between a novice doctor who was holding a scalpel for the first time and a veteran doctor of excellent reputation who had successfully performed hundreds of similar surgeries, who would you pick? You cannot gain experience by taking a course, you have to live it. Mike is ready and proven, his opponent is not.
---
Donna Harrison - hayfork

We currently have two candidates for Superior Court judge. Both have lived in the county for many years and been involved with community activities and organizations, and are well-liked by those they know. So I have looked beyond their personalities and community mindedness to what qualifications and experience they bring to the job of judge.

Although I do not know Jim Underwood, I have read his materials and done my own research. I have personal knowledge of Mike Harper as I had the opportunity to work with him as a co-worker when he started as a Deputy DA, to work for him when he became District Attorney and to observe how he has performed since being appointed by the governor as judge.

The reality in this county is that the majority of our judges' duties relate to criminal cases rather than civil cases. Unfortunately, Jim's background and experience primarily pertains to civil matters, while Mike's career history contains many years as a criminal case prosecutor and now two years as a judge presiding over criminal and civil matters. In addition, in the years I have known Mike, I have never met anyone with more integrity.

Talk to Mike and you will find out that he understands that his job is not to come to the courtroom with a pre-conceived idea of how a case will be handled, but rather to listen to the specifics of each case and decide it fairly and impartially, all while staying within the confines of what is legally correct and just.

For all of the above, he has earned not only my respect and vote, but that of many others involved with the justice system. I urge everyone to take a fair look at both candidates and then join us in electing Mike to continue serving the citizens of Trinity County in the same job and same manner as he has this last two years.
---
Larry A. Olsen Attorney at Law - weaverville

I have been an attorney for the past 36 years. During that time, I have worked as a civil attorney, a prosecuting attorney, and a criminal defense attorney. Currently, I have an office at 790 Main St., Weaverville, and I reside in Weaverville.

My varied legal background has caused me to practice throughout the state of California, but primarily in the Bay Area. Needless to say, I have encountered judges of every category; good, bad and excellent. Trinity County is truly blessed to have Judge Michael Harper sitting on the bench. Judge Harper's demeanor is always understanding, calm and professional. He is exceptionally intelligent, and his knowledge of the law, both civil and criminal, is second to none.

For the past two years, Judge Harper has proven to be an excellent judge through his hard work and long hours on the job. Regular hours as judge do not exist, and I have never observed Judge Harper to be unavailable during the day or night when called upon. Additionally, he is a family man of high moral character and exceptional integrity. It would be a travesty of justice to lose this outstanding and proven veteran to the Trinity County Bench. I certainly urge you to vote for Judge Michael Harper, Trinity County Superior Court Judge.
---
Jill Cox - weaverville

Judge Mike Harper has my vote for Superior Court judge. After listening to the two candidates speak on candidates night at TAPAC and researching both the career paths and qualifications of each, Mike is the choice that I feel makes sense. His qualifications are superior and his experience broader; his work ethic has proven to be outstanding.

Mike bears a commitment to this community, which extends far beyond what happens in the courtroom proper. Mike and Joanne have served tirelessly in countless arenas of community involvement. In the first few years they lived in Trinity County, before I knew them personally, I saw them working within the community and noticed the positive effects of their efforts. I knew I wanted to get to know them long before I had an avenue to do so. Now, after having taught their children for the past eight years, I can personally attest that I have witnessed their strong work ethic, moral soundness, and hearts that give of themselves — even when giving costs them dearly. Mike, as head of this type of household, is the quality of individual I want serving as judge of the community I'm pleased to call my home.

I would add that Mike has given years of service on the SARB board for Trinity County and his involvement with the schools and in peer court is both exemplary and appreciated.
---
Liam Gogan - douglas city

In response to Jim Underwood's ad in the Journal on May 4, I was a bit surprised by the negative demeanor and content of the ad.

In 2012, Elizabeth Johnson ran for judge. Mr. Underwood was her law partner and her campaign manager. I heard Mrs. Johnson make the same criticisms that I saw in Mr. Underwood's ad today. She was going to make changes in the court, the same changes Mr. Underwood suggests. Mrs. Johnson was elected in 2012 and became the Presiding Judge who is responsible for the administration of the courts and giving her the power to enact these changes. Yet here in 2016, four years later, Mr. Underwood criticizes Judge Harper for not making those changes that Mr. Underwood and Mrs. Johnson convinced the voters were necessary in 2012.

Judge Harper has been on the bench almost two years working hard at bringing respect and efficiency to the courts while Judge Johnson has remained, by law, the presiding judge.

It disappoints me that Mr. Underwood would try to deceive the voters into holding Judge Harper responsible for Judge Johnson's actions.

This type of campaign is not needed nor wanted in a judicial race. My vote is for Judge Mike Harper.
---
Doris Price - weaverville

How do I know how to vote for a judge? Because I realize the importance for me is to make a decision based on what is best for our Trinity County, I have been doing as much research as I can. In case you have the same dilemma, I am going to pass on some ideas that I have come up with.

The big question is, "What is a Judge responsible for and how does he/she accomplish it?" Simply, I believe that I have found that there are two major responsibilities: 1) to make sure that the Court Strategic Plan is in place and the system operates correctly and runs smoothly, and 2) to make correct and fair judgments for people who are being tried before him/her. And then how are those accomplished and what are the priorities?

Firstly, the Superior Court judges meet and establish a Court Strategic Plan. Those plans are carried out by the court employees who have the responsibility, not by the judge himself. So then, what is the most important job that a judge does, and what kind of preparation is necessary?

Obviously, a Superior Court judge must be a licensed attorney, having passed the Bar Exam. I understand that lawyers specialize, such as doctors do, in different kinds of legal procedures, such as civil law or criminal law or what have you. That makes sense to me as there is so much to know that they can't possibly know it all without the experience of actually doing it.

So, back to what a Superior Court judge does is to make judgment in the courtroom. What I am getting at is this, when a person appears before a judge in a criminal case or a civil case, that judge must have as much experience as possible in order for the individual involved to have a fair trial.

I have been told that most of the cases that come before the Superior Court judges in Trinity County are criminal cases. With that said, I am voting for the candidate with the most experience, Judge Mike Harper, because I want to be assured that people are being treated correctly and fairly by the law.
---
Michael Novak - weaverville

I am a physician assistant at the Trinity Community Health Clinic and also contract my services to provide medical care at the Trinity County Jail. I am writing this letter in support for electing Judge Mike Harper for Superior Court judge. When I think of the ideal Superior Court judge I imagine someone with integrity, who is experienced, hard-working, honest, and truly invested in Trinity County and its well-being. I can think of no one who meets these qualifications better than Judge Mike Harper.

One of the first families that welcomed my wife and I to Weaverville were the Harpers. They were and continue to be a genuinely amazing family who are supportive, unselfish, positive, and unbelievably friendly. The amount of time and energy that Judge Mike Harper and his family put into this county is truly stunning. They have been coaches on multiple sports teams, event organizers, referees, and most importantly amazing role models for our children and our community. It is because of incredible people like Judge Mike Harper and his family that we continue to call Trinity County home.

For the past 15 years Mike Harper has devoted his life to the service of Trinity County. He has demonstrated time after time what an amazing person he is and how willing he is to give 110 percent. He goes above and beyond for our county. During the past two years, since Judge Mike Harper was appointed by Gov. Jerry Brown to the Trinity County Superior Court, he has proven that his many years of criminal and civil law experience have made him an ideal Superior Court judge.

Working as one of the medical providers at the Trinity County Jail I have had the pleasure of seeing firsthand the incredible difference Judge Mike Harper has made since he was appointed Superior Court judge. He has significantly decreased the number of backlogged cases at the jail which translates into fewer inmates who are being housed awaiting trial. Our county pays for inmate's medications and their medical care. In short, this means that having an experienced judge like Michael Harper who has the ability, work ethic, and drive to see cases in a timely manner is saving dollars. These taxpayers' dollars can now be invested back into our county rather being spent on medical care for inmates that should have already been through trial.

How unbelievably lucky our county is to have someone so qualified, dedicated and hard working as Judge Harper. Having already proven that he has the experience and ability to be an outstanding judge there is no question in my mind that Judge Mike Harper is by far the superior candidate for this extremely important position. I strongly encourage the county to support Judge Mike Harper and vote for him for Superior Court judge. Our county simply cannot afford not to.
---
Jim Gervasi - weaverville

I have known Mike Harper and his family for more than 16 years. We first met when Mike became an assistant district attorney for Trinity County. Not only did we work together, but our families became fast friends. We visited them at Trinity Hospital when their youngest child was born. My youngest daughter was their children's babysitter. Mike was the officiant at my oldest daughter's wedding. It is so easy to be a part of Mike's life because his family values and commitment to this community are so strong. The Harpers have such a positive energy it makes you want to be around them.

Mike is a true patriot and is dedicated to his career in criminal law. Since moving to Trinity County, he has done nothing but impact this community in a positive way. There is no doubt in my mind that Mike is beyond competent and an ideal candidate for judge. He has my full unbridled support in this election. I am proud to be a part of his life and to call him a past colleague and friend.
---
Darlene Roberson - weaverville

I've been a certified shorthand reporter for more than 20 years now. I became Trinity County's official court reporter 16 years ago. In my time here, I've worked with many judges, both elected and visiting. I have had the opportunity to see Michael Harper work in the courtroom as a deputy district attorney, elected D.A., and now as a judge appointed by the governor, after beating out many applicants, including Jim Underwood.

During his time with the DA's office, I'd seen Harper handle every type of criminal case, from homicide to juvenile delinquency. As a judge, I've seen him handle criminal, civil, juvenile delinquency and dependency matters flawlessly. He has treated everyone who goes through his courtroom with respect, while still ensuring that the citizens of Trinity County see justice. He has participated in creating and expanding services to help others, i.e., juvenile peer court, drug court, domestic violence court, the self-help center, etc. The court is looking into providing services to combat veterans as well.

It would be an absolute disservice to this community to elect anyone other than Michael Harper for Trinity County Superior Court judge. We can't afford to slow the court's momentum, and we certainly can't afford the costly mistakes due to a judge's inexperience and lack of knowledge of the matters before him/her.
---
Richard L. Armstrong, DDS - weaverville

My name is Richard Armstrong. I have lived in Weaverville since I moved here with my wife, Jane, and our children in 1958. Over the years, Jane and I were active in the community and came to love Trinity County. We worked hard to identify, support, and vote for the people who would best serve our county, including judges.

Although I am long retired, I still pay attention to what is going on in Trinity County. As a result, I am convinced that Mike Harper is by far the best candidate for Superior Court judge.

Like me, Mike came to this place with the intention of settling here. He and his family have put their roots deep in the county, just as Jane and I did.

Mike is known and trusted in this community. By all accounts he is able and dedicated to his profession. He has long experience as our district attorney, in the courtroom and in management of a public office. He also has the advantage of having been a judge for the last two years. So far as I can tell, he has served with distinction.

I will support and vote for Mike Harper in June.
---
Laura Woods - weaverville

I am writing this letter in support of Mike Harper for Superior Court judge. I am the county's new public defender. I have more than 20 years of experience as an attorney, both as a deputy district attorney and as a public defender. I have appeared before judges in many counties in California, and have been involved in hundreds of trials and thousands of court hearings.

Judge Harper is one of the most competent, professional judges before whom I have appeared. He is fair, polite and most importantly, has the advanced knowledge necessary to handle any kind of case that is before him. He understands the intricacies involved between civil cases and criminal cases, and has operated a smooth and efficient courtroom for two years. Even when his rulings do not go my way, I believe he gives careful thought to his decisions, and they are based on sound legal analysis.

I am aware that Judge Harper, his wife and his children are long-standing members of the community. In addition to being all-around wonderful people, they have given tremendous support to Trinity County, both professionally and personally. I urge you to vote for Mike Harper for Superior Court judge.
---
Megan Marshall - weaverville

Judge Mike Harper is a man of the highest integrity and ethics. In my 20-year career as a deputy district attorney, I have interacted with many judges of varying calibers. We are so fortunate to have Judge Mike Harper here in Trinity County. He is an excellent judge, a true man of honor. He is respectful and decent to all community members who appear in his courtroom. He is truthful and genuine, and maintains order in a calm and professional manner.

Judge Harper is very well educated and has extensive trial experience. Throughout his tenure as our Superior Court judge, Judge Harper has presided expertly in numerous contested legal matters and difficult trials. He prepares for court daily, he carefully reads the cases, reviews the written briefs, and he goes the extra mile by conducting his own legal research to ensure that justice is obtained in every single case.

Judge Harper upholds the law every day in our courthouse, and he genuinely cares about this community. We are truly blessed to have a judge who is committed to support justice here in Trinity County. Stand up and vote to keep Judge Mike Harper here in Trinity County!
supporter list... | photos...